PLAN FOR THIS SUMMER (2019)
LiveOdds
New Leagues/cups
More historical data
More Players Data (Transferts, statistics etc…) [DONE]
COVERAGE
To know all the leagues/cups available : https://www.api-football.com/coverage
ARCHITECTURE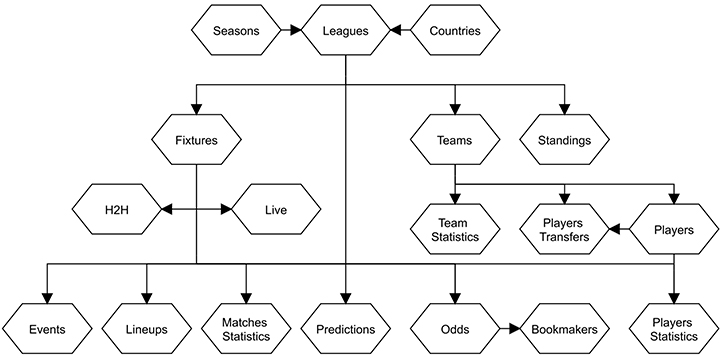 LIVESCORE | EVENTS | LINEUPS | STATISTICS
Matches and Events are updated every minute, some leagues have only final result only (check in our coverage table).
Lineups are available between 20 and 40 minutes before the match.
Matchs Statistics are updated every 20 minutes.
Standings are updated every hours.
Matchs status :
TBD | Time To Be Defined
NS | Not Started
1H | First Half, Kick Off
HT | Halftime
2H | Second Half, 2nd Half Started
ET | Extra Time
P | Penalty In Progress
FT | Match Finished
AET | Match Finished After Extra Time
PEN | Match Finished After Penalty
BT | Break Time (in Extra Time)
SUSP | Match Suspended
INT | Match Interrupted
PST | Match Postponed
CANC | Match Cancelled
ABD | Match Abandoned
AWD | Technical Loss
WO | WalkOver
Events :
yellow cards
second yellow cards
red cards
goals
own goals
penalty
missed penalty
substitution
Line ups :
Formation
Coach
Start 11
Substitutes
Statistics :
Assists
Blocked Shots
Corner Kicks
Counter Attacks
Cross Attacks
Fouls
Free Kicks
Goals
Goal Attempts
Offsides
Ball Possession
Red Cards
Goalkeeper Saves
Shots off Goal
Shots on Goal
Substitutions
Throwins
Medical Treatment
Yellow Cards
PLAYERS
We provide a set of statistics of players.
Players statistics and infos are updated every days.
position
number
injured
rating
shots
goals
passes
tackles
duels
dribbles
fouls
cards
penalty
games
substitutes
PRE-MATCHS ODDS
We provide pre-match odds between 1 and 7 days before the match. (We keep a 7-day history).
We have several bookmakers and it can filter the odds by leagues, matches or bookmakers.
Odds are updated once a day.
Overview of available odds (non-exhaustive list).
To see all odds list, call the "/v2/odds/labels/" endpoint
Match Winner
Home/Away
First Half Winner
Second Half Winner
Both Teams Score
Exact Score
Double Chance
Results/Both Teams Score
…and more
SUPPORT | NEWS
For a better support, contact us at : [email protected]
For the news of our API, new competitions, features etc … https://www.api-football.com/news
NEW RELEASE AVAILABLE
Our new version (v2) is available. Consult our documentation to find out what's new : https://www.api-football.com/documentation. (The current version will always be available)
DEMO
A demo version of the API is available at this url : https://www.api-football.com/demo/api/v2/.
Here are the leagues present in the demo version :
Champions League (2018-2019)
Brazil - Serie A (2018)
England - Premier League (2018-2019)
Netherlands - Eredivisie (2018-2019)
You can use it without restriction in your development environment.
This is a demo and does not represent the entire API. The data is limited and not up to date and serves only as an example. For production environement use : https://api-football-v1.p.rapidapi.com/v2/.
COMPETITIONS
ALBANIA
1st Division
[X] Livescore | [X] Events | [X] Lineups | [ ] statistics | [X] Players | [X] Standings
Superliga
[X] Livescore | [X] Events | [X] Lineups | [ ] statistics | [X] Players | [X] Standings
ALGERIA
Ligue 1
[X] Livescore | [X] Events | [X] Lineups | [ ] statistics | [X] Players | [X] Standings
Ligue 2
[X] Livescore | [X] Events | [X] Lineups | [ ] statistics | [X] Players | [X] Standings
ANDORRA
1a Divisió
[X] Livescore | [X] Events | [X] Lineups | [ ] statistics | [X] Players | [X] Standings
2a Divisió
[ ] Livescore | [ ] Events | [ ] Lineups | [ ] statistics | [ ] Players | [X] Standings
ARGENTINA
Copa Argentina
[X] Livescore | [X] Events | [X] Lineups | [ ] statistics | [X] Players | [ ] Standings
Primera B Nacional
[X] Livescore | [X] Events | [X] Lineups | [ ] statistics | [X] Players | [X] Standings
Primera Division
[X] Livescore | [X] Events | [X] Lineups | [X] statistics | [X] Players | [X] Standings
ARMENIA
First League
[ ] Livescore | [ ] Events | [X] Lineups | [ ] statistics | [ ] Players | [X] Standings
Premier League
[X] Livescore | [X] Events | [X] Lineups | [ ] statistics | [X] Players | [X] Standings
AUSTRALIA
A-League
[X] Livescore | [X] Events | [X] Lineups | [X] statistics | [X] Players | [X] Standings
Brisbane Premier League
[X] Livescore | [X] Events | [ ] Lineups | [ ] statistics | [ ] Players | [X] Standings
National Premier Leagues
[ ] Livescore | [ ] Events | [ ] Lineups | [ ] statistics | [X] Players | [X] Standings
New South Wales NPL
[X] Livescore | [X] Events | [ ] Lineups | [ ] statistics | [X] Players | [X] Standings
Northern Territory Premier League
[ ] Livescore | [ ] Events | [ ] Lineups | [ ] statistics | [X] Players | [X] Standings
South Australia NPL
[X] Livescore | [X] Events | [ ] Lineups | [ ] statistics | [ ] Players | [X] Standings
Victoria NPL
[X] Livescore | [X] Events | [ ] Lineups | [ ] statistics | [X] Players | [X] Standings
W-League
[X] Livescore | [X] Events | [X] Lineups | [ ] statistics | [X] Players | [X] Standings
Western Australia NPL
[X] Livescore | [X] Events | [ ] Lineups | [ ] statistics | [X] Players | [X] Standings
AUSTRIA
Erste Liga
[X] Livescore | [X] Events | [X] Lineups | [X] statistics | [X] Players | [X] Standings
Tipp3 Bundesliga
[X] Livescore | [X] Events | [X] Lineups | [X] statistics | [X] Players | [X] Standings
BELARUS
1. Division
[X] Livescore | [X] Events | [X] Lineups | [ ] statistics | [X] Players | [X] Standings
Vyscha Liga
[X] Livescore | [X] Events | [X] Lineups | [ ] statistics | [X] Players | [X] Standings
BELGIUM
2e Klasse
[X] Livescore | [X] Events | [X] Lineups | [ ] statistics | [X] Players | [X] Standings
Jupiler Pro League
[X] Livescore | [X] Events | [X] Lineups | [X] statistics | [X] Players | [X] Standings
Super League Women
[ ] Livescore | [ ] Events | [ ] Lineups | [ ] statistics | [X] Players | [X] Standings
BOLIVIA
Primera División
[X] Livescore | [X] Events | [X] Lineups | [ ] statistics | [X] Players | [X] Standings
BOSNIA
Cup
[X] Livescore | [X] Events | [X] Lineups | [ ] statistics | [X] Players | [ ] Standings
Premijer Liga
[X] Livescore | [X] Events | [X] Lineups | [ ] statistics | [X] Players | [X] Standings
BRAZIL
Brasileiro Women
[X] Livescore | [X] Events | [X] Lineups | [ ] statistics | [X] Players | [X] Standings
Copa Do Brasil
[X] Livescore | [X] Events | [X] Lineups | [X] statistics | [X] Players | [ ] Standings
Serie A
[X] Livescore | [X] Events | [X] Lineups | [X] statistics | [X] Players | [X] Standings
Serie B
[X] Livescore | [X] Events | [X] Lineups | [X] statistics | [X] Players | [X] Standings
BULGARIA
A PFG
[X] Livescore | [X] Events | [X] Lineups | [X] statistics | [X] Players | [X] Standings
B PFG
[X] Livescore | [X] Events | [X] Lineups | [ ] statistics | [X] Players | [X] Standings
CANADA
Canadian Championship
[X] Livescore | [X] Events | [X] Lineups | [ ] statistics | [X] Players | [ ] Standings
Canadian Soccer League
[ ] Livescore | [ ] Events | [ ] Lineups | [ ] statistics | [ ] Players | [X] Standings
Pacific Coast Soccer League
[ ] Livescore | [ ] Events | [ ] Lineups | [ ] statistics | [ ] Players | [X] Standings
CHILE
Primera B
[X] Livescore | [X] Events | [X] Lineups | [ ] statistics | [X] Players | [X] Standings
Primera Division
[X] Livescore | [X] Events | [X] Lineups | [X] statistics | [X] Players | [X] Standings
CHINA
League One
[X] Livescore | [X] Events | [X] Lineups | [ ] statistics | [X] Players | [X] Standings
Super League
[X] Livescore | [X] Events | [X] Lineups | [X] statistics | [X] Players | [X] Standings
COLOMBIA
Primera A
[X] Livescore | [X] Events | [X] Lineups | [X] statistics | [X] Players | [X] Standings
Primera B
[X] Livescore | [X] Events | [X] Lineups | [ ] statistics | [X] Players | [X] Standings
COSTA-RICA
Liga De Ascenso
[ ] Livescore | [ ] Events | [ ] Lineups | [ ] statistics | [X] Players | [X] Standings
Primera Division
[X] Livescore | [X] Events | [X] Lineups | [ ] statistics | [X] Players | [X] Standings
CROATIA
Druga HNL
[X] Livescore | [X] Events | [X] Lineups | [ ] statistics | [X] Players | [X] Standings
Prva HNL
[X] Livescore | [X] Events | [X] Lineups | [ ] statistics | [X] Players | [X] Standings
CYPRUS
1. Division
[X] Livescore | [X] Events | [X] Lineups | [X] statistics | [X] Players | [X] Standings
2. Division
[ ] Livescore | [ ] Events | [ ] Lineups | [ ] statistics | [X] Players | [X] Standings
3. Division
[ ] Livescore | [ ] Events | [ ] Lineups | [ ] statistics | [X] Players | [X] Standings
CZECH-REPUBLIC
Czech Liga
[X] Livescore | [X] Events | [X] Lineups | [ ] statistics | [X] Players | [X] Standings
FNL
[X] Livescore | [X] Events | [X] Lineups | [ ] statistics | [X] Players | [X] Standings
DENMARK
Superligaen
[X] Livescore | [X] Events | [X] Lineups | [X] statistics | [X] Players | [X] Standings
Viasat Divisionen
[X] Livescore | [X] Events | [X] Lineups | [ ] statistics | [X] Players | [X] Standings
ECUADOR
Serie A
[X] Livescore | [X] Events | [X] Lineups | [X] statistics | [X] Players | [X] Standings
Serie B
[X] Livescore | [X] Events | [ ] Lineups | [ ] statistics | [X] Players | [X] Standings
EGYPT
Premier League
[X] Livescore | [X] Events | [X] Lineups | [ ] statistics | [X] Players | [X] Standings
EL-SALVADOR
Primera Division
[X] Livescore | [X] Events | [X] Lineups | [ ] statistics | [X] Players | [X] Standings
ENGLAND
Championship
[X] Livescore | [X] Events | [X] Lineups | [X] statistics | [X] Players | [X] Standings
FA WSL
[X] Livescore | [X] Events | [X] Lineups | [ ] statistics | [X] Players | [X] Standings
League One
[X] Livescore | [X] Events | [X] Lineups | [X] statistics | [X] Players | [X] Standings
League Two
[X] Livescore | [X] Events | [X] Lineups | [X] statistics | [X] Players | [X] Standings
National League
[X] Livescore | [X] Events | [X] Lineups | [ ] statistics | [X] Players | [X] Standings
Premier League
[X] Livescore | [X] Events | [X] Lineups | [X] statistics | [X] Players | [X] Standings
ESTONIA
Esiliiga A
[X] Livescore | [X] Events | [X] Lineups | [ ] statistics | [X] Players | [X] Standings
Meistriliiga
[X] Livescore | [X] Events | [X] Lineups | [ ] statistics | [X] Players | [X] Standings
ETHIOPIA
Premier League
[ ] Livescore | [ ] Events | [ ] Lineups | [ ] statistics | [ ] Players | [ ] Standings
FAROE-ISLANDS
1. Deild
[ ] Livescore | [ ] Events | [ ] Lineups | [ ] statistics | [X] Players | [X] Standings
Meistaradeildin
[X] Livescore | [X] Events | [X] Lineups | [ ] statistics | [X] Players | [X] Standings
FIJI
National Football League
[ ] Livescore | [ ] Events | [ ] Lineups | [ ] statistics | [X] Players | [X] Standings
FINLAND
Veikkausliiga
[X] Livescore | [X] Events | [X] Lineups | [X] statistics | [X] Players | [X] Standings
Ykkonen
[X] Livescore | [X] Events | [X] Lineups | [ ] statistics | [X] Players | [X] Standings
FRANCE
Coupe de France
[X] Livescore | [X] Events | [X] Lineups | [X] statistics | [X] Players | [ ] Standings
Coupe de la Ligue
[X] Livescore | [X] Events | [X] Lineups | [X] statistics | [X] Players | [ ] Standings
Feminine Division 1
[X] Livescore | [X] Events | [X] Lineups | [ ] statistics | [X] Players | [X] Standings
Ligue 1
[X] Livescore | [X] Events | [X] Lineups | [X] statistics | [X] Players | [X] Standings
Ligue 2
[X] Livescore | [X] Events | [X] Lineups | [X] statistics | [X] Players | [X] Standings
National
[X] Livescore | [X] Events | [X] Lineups | [ ] statistics | [X] Players | [X] Standings
GEORGIA
Erovnuli Liga
[X] Livescore | [X] Events | [X] Lineups | [ ] statistics | [X] Players | [X] Standings
Erovnuli Liga 2
[X] Livescore | [X] Events | [X] Lineups | [ ] statistics | [X] Players | [X] Standings
GERMANY
Bundesliga 1
[X] Livescore | [X] Events | [X] Lineups | [X] statistics | [X] Players | [X] Standings
Bundesliga 2
[X] Livescore | [X] Events | [X] Lineups | [X] statistics | [X] Players | [X] Standings
DFB Pokal
[X] Livescore | [X] Events | [X] Lineups | [X] statistics | [X] Players | [ ] Standings
Liga 3
[X] Livescore | [X] Events | [X] Lineups | [X] statistics | [X] Players | [X] Standings
Women Bundesliga
[X] Livescore | [X] Events | [X] Lineups | [ ] statistics | [X] Players | [X] Standings
GREECE
Football League
[X] Livescore | [X] Events | [X] Lineups | [ ] statistics | [X] Players | [X] Standings
Super League
[X] Livescore | [X] Events | [X] Lineups | [X] statistics | [X] Players | [X] Standings
GUADELOUPE
Division d'Honneur
[ ] Livescore | [ ] Events | [ ] Lineups | [ ] statistics | [ ] Players | [X] Standings
GUATEMALA
Liga Nacional
[X] Livescore | [X] Events | [X] Lineups | [ ] statistics | [X] Players | [X] Standings
Primera Division
[ ] Livescore | [ ] Events | [ ] Lineups | [ ] statistics | [X] Players | [X] Standings
GUINEA
Ligue 1
[ ] Livescore | [ ] Events | [ ] Lineups | [ ] statistics | [ ] Players | [X] Standings
HAITI
Ligue Haïtienne
[ ] Livescore | [ ] Events | [ ] Lineups | [ ] statistics | [ ] Players | [X] Standings
HONDURAS
Liga Nacional de Fútbol
[X] Livescore | [X] Events | [X] Lineups | [ ] statistics | [X] Players | [X] Standings
HONG-KONG
HKFA 1st Division
[ ] Livescore | [ ] Events | [ ] Lineups | [ ] statistics | [ ] Players | [X] Standings
Premier League
[X] Livescore | [X] Events | [X] Lineups | [ ] statistics | [X] Players | [X] Standings
HUNGARY
NB I
[X] Livescore | [X] Events | [X] Lineups | [ ] statistics | [X] Players | [X] Standings
NB II
[X] Livescore | [X] Events | [X] Lineups | [ ] statistics | [X] Players | [X] Standings
ICELAND
Division 1
[X] Livescore | [X] Events | [X] Lineups | [ ] statistics | [X] Players | [X] Standings
Division 2
[X] Livescore | [X] Events | [ ] Lineups | [ ] statistics | [X] Players | [X] Standings
Premier
[X] Livescore | [X] Events | [X] Lineups | [ ] statistics | [X] Players | [X] Standings
INDIA
I-League
[X] Livescore | [X] Events | [X] Lineups | [ ] statistics | [X] Players | [X] Standings
Indian Super League
[X] Livescore | [X] Events | [X] Lineups | [X] statistics | [X] Players | [X] Standings
INDONESIA
Liga 2
[X] Livescore | [X] Events | [ ] Lineups | [ ] statistics | [X] Players | [ ] Standings
Super League
[X] Livescore | [X] Events | [X] Lineups | [ ] statistics | [X] Players | [X] Standings
IRAN
Azadegan League
[ ] Livescore | [ ] Events | [ ] Lineups | [ ] statistics | [X] Players | [X] Standings
Persian Gulf Cup
[X] Livescore | [X] Events | [X] Lineups | [ ] statistics | [X] Players | [X] Standings
IRELAND
First Division
[X] Livescore | [X] Events | [X] Lineups | [ ] statistics | [X] Players | [X] Standings
Premier Division
[X] Livescore | [X] Events | [X] Lineups | [ ] statistics | [X] Players | [X] Standings
ISRAEL
Liga Leumit
[X] Livescore | [X] Events | [X] Lineups | [ ] statistics | [X] Players | [X] Standings
Ligat ha'Al
[X] Livescore | [X] Events | [X] Lineups | [ ] statistics | [ ] Players | [X] Standings
ITALY
Coppa Italia
[X] Livescore | [X] Events | [X] Lineups | [X] statistics | [X] Players | [ ] Standings
Serie A
[X] Livescore | [X] Events | [X] Lineups | [X] statistics | [X] Players | [X] Standings
Serie A Women
[X] Livescore | [X] Events | [X] Lineups | [ ] statistics | [X] Players | [X] Standings
Serie B
[X] Livescore | [X] Events | [X] Lineups | [X] statistics | [X] Players | [X] Standings
Serie C
[X] Livescore | [X] Events | [X] Lineups | [ ] statistics | [X] Players | [X] Standings
IVORY COAST
Ligue 1
[ ] Livescore | [ ] Events | [ ] Lineups | [ ] statistics | [ ] Players | [ ] Standings
JAMAICA
Premier League
[X] Livescore | [X] Events | [X] Lineups | [ ] statistics | [X] Players | [ ] Standings
JAPAN
J. League Div.1
[X] Livescore | [X] Events | [X] Lineups | [X] statistics | [X] Players | [X] Standings
J. League Div.2
[X] Livescore | [X] Events | [X] Lineups | [ ] statistics | [X] Players | [X] Standings
J. League Div.3
[X] Livescore | [X] Events | [X] Lineups | [ ] statistics | [ ] Players | [X] Standings
JORDAN
Division 1
[ ] Livescore | [ ] Events | [ ] Lineups | [ ] statistics | [X] Players | [X] Standings
KAZAKHSTAN
1. Division
[ ] Livescore | [ ] Events | [ ] Lineups | [ ] statistics | [X] Players | [X] Standings
Premier League
[X] Livescore | [X] Events | [X] Lineups | [ ] statistics | [ ] Players | [X] Standings
KENYA
Premier League
[X] Livescore | [X] Events | [ ] Lineups | [ ] statistics | [X] Players | [X] Standings
Super League
[ ] Livescore | [ ] Events | [ ] Lineups | [ ] statistics | [X] Players | [X] Standings
KUWAIT
Division 1
[ ] Livescore | [ ] Events | [ ] Lineups | [ ] statistics | [X] Players | [X] Standings
Premier League
[X] Livescore | [X] Events | [ ] Lineups | [ ] statistics | [X] Players | [X] Standings
LATVIA
1. Liga
[ ] Livescore | [ ] Events | [ ] Lineups | [ ] statistics | [X] Players | [X] Standings
Virsliga
[X] Livescore | [X] Events | [X] Lineups | [ ] statistics | [X] Players | [X] Standings
LEBANON
Premier League
[X] Livescore | [X] Events | [X] Lineups | [ ] statistics | [X] Players | [X] Standings
LITHUANIA
1 Lyga
[X] Livescore | [X] Events | [ ] Lineups | [ ] statistics | [X] Players | [X] Standings
A Lyga
[X] Livescore | [X] Events | [X] Lineups | [ ] statistics | [X] Players | [X] Standings
LUXEMBOURG
National Division
[X] Livescore | [X] Events | [X] Lineups | [ ] statistics | [ ] Players | [X] Standings
MACEDONIA
First League
[X] Livescore | [X] Events | [X] Lineups | [ ] statistics | [X] Players | [X] Standings
Second League
[ ] Livescore | [ ] Events | [ ] Lineups | [ ] statistics | [X] Players | [X] Standings
MALAWI
Super League
[ ] Livescore | [ ] Events | [ ] Lineups | [ ] statistics | [ ] Players | [X] Standings
MALAYSIA
Premier League
[X] Livescore | [X] Events | [ ] Lineups | [ ] statistics | [X] Players | [X] Standings
Super League
[X] Livescore | [X] Events | [X] Lineups | [ ] statistics | [X] Players | [X] Standings
MALTA
First Division
[ ] Livescore | [ ] Events | [ ] Lineups | [ ] statistics | [X] Players | [X] Standings
Premier League
[X] Livescore | [X] Events | [X] Lineups | [ ] statistics | [X] Players | [X] Standings
MEXICO
Ascenso MX
[X] Livescore | [X] Events | [X] Lineups | [ ] statistics | [X] Players | [X] Standings
Liga MX
[X] Livescore | [X] Events | [X] Lineups | [X] statistics | [X] Players | [X] Standings
MOLDOVA
Divizia Națională
[X] Livescore | [X] Events | [X] Lineups | [ ] statistics | [X] Players | [X] Standings
MONTENEGRO
First League
[X] Livescore | [X] Events | [X] Lineups | [ ] statistics | [X] Players | [X] Standings
Second League
[ ] Livescore | [ ] Events | [ ] Lineups | [ ] statistics | [X] Players | [X] Standings
MOROCCO
Botola 2
[ ] Livescore | [ ] Events | [ ] Lineups | [ ] statistics | [X] Players | [X] Standings
Botola Pro
[X] Livescore | [X] Events | [ ] Lineups | [ ] statistics | [X] Players | [X] Standings
NETHERLANDS
Eerste Divisie
[X] Livescore | [X] Events | [X] Lineups | [X] statistics | [X] Players | [X] Standings
Eredivisie
[X] Livescore | [X] Events | [X] Lineups | [X] statistics | [X] Players | [X] Standings
Eredivisie Women
[X] Livescore | [X] Events | [X] Lineups | [ ] statistics | [X] Players | [X] Standings
KNVB Beker
[X] Livescore | [X] Events | [X] Lineups | [ ] statistics | [X] Players | [ ] Standings
NEW-ZEALAND
Football Championship
[X] Livescore | [X] Events | [X] Lineups | [ ] statistics | [X] Players | [X] Standings
NICARAGUA
Primera Division
[X] Livescore | [X] Events | [X] Lineups | [ ] statistics | [X] Players | [X] Standings
NORWAY
Eliteserien
[X] Livescore | [X] Events | [X] Lineups | [X] statistics | [X] Players | [X] Standings
OBOS-ligaen
[X] Livescore | [X] Events | [X] Lineups | [ ] statistics | [X] Players | [X] Standings
PANAMA
Liga Panameña de Fútbol
[X] Livescore | [X] Events | [X] Lineups | [ ] statistics | [X] Players | [X] Standings
PARAGUAY
Primera Division - Apertura
[X] Livescore | [X] Events | [X] Lineups | [ ] statistics | [X] Players | [X] Standings
Primera Division - Clausura
[X] Livescore | [X] Events | [X] Lineups | [ ] statistics | [X] Players | [X] Standings
Segunda Division
[ ] Livescore | [ ] Events | [ ] Lineups | [ ] statistics | [X] Players | [X] Standings
PERU
Primera Division
[X] Livescore | [X] Events | [X] Lineups | [X] statistics | [X] Players | [X] Standings
Segunda Division
[X] Livescore | [X] Events | [X] Lineups | [ ] statistics | [X] Players | [X] Standings
POLAND
Ekstraklasa
[X] Livescore | [X] Events | [X] Lineups | [X] statistics | [X] Players | [X] Standings
I Liga
[X] Livescore | [X] Events | [X] Lineups | [ ] statistics | [X] Players | [X] Standings
PORTUGAL
Liga de Honra
[X] Livescore | [X] Events | [X] Lineups | [ ] statistics | [X] Players | [X] Standings
Primeira Liga
[X] Livescore | [X] Events | [X] Lineups | [X] statistics | [X] Players | [X] Standings
QATAR
2nd Division League
[ ] Livescore | [ ] Events | [ ] Lineups | [ ] statistics | [X] Players | [X] Standings
Stars League
[X] Livescore | [X] Events | [X] Lineups | [ ] statistics | [X] Players | [X] Standings
ROMANIA
Liga I
[X] Livescore | [X] Events | [X] Lineups | [X] statistics | [X] Players | [X] Standings
Liga II
[X] Livescore | [X] Events | [X] Lineups | [ ] statistics | [X] Players | [X] Standings
RUSSIA
Football National League
[X] Livescore | [X] Events | [X] Lineups | [ ] statistics | [X] Players | [X] Standings
Premier League
[X] Livescore | [X] Events | [X] Lineups | [X] statistics | [X] Players | [X] Standings
SAUDI-ARABIA
Division 1
[ ] Livescore | [ ] Events | [ ] Lineups | [ ] statistics | [X] Players | [X] Standings
Division 2
[ ] Livescore | [ ] Events | [ ] Lineups | [ ] statistics | [X] Players | [X] Standings
Pro League
[X] Livescore | [X] Events | [X] Lineups | [X] statistics | [X] Players | [X] Standings
SCOTLAND
Championship
[X] Livescore | [X] Events | [X] Lineups | [ ] statistics | [X] Players | [X] Standings
Premiership
[X] Livescore | [X] Events | [X] Lineups | [X] statistics | [X] Players | [X] Standings
SERBIA
Prva Liga
[X] Livescore | [X] Events | [X] Lineups | [ ] statistics | [X] Players | [X] Standings
Super Liga
[X] Livescore | [X] Events | [X] Lineups | [ ] statistics | [X] Players | [X] Standings
SINGAPORE
Premier League
[X] Livescore | [X] Events | [X] Lineups | [ ] statistics | [X] Players | [X] Standings
SLOVAKIA
Super Liga
[X] Livescore | [X] Events | [X] Lineups | [ ] statistics | [X] Players | [X] Standings
SLOVENIA
1. SNL
[X] Livescore | [X] Events | [X] Lineups | [ ] statistics | [X] Players | [X] Standings
2. SNL
[X] Livescore | [X] Events | [X] Lineups | [ ] statistics | [X] Players | [X] Standings
SOUTH-AFRICA
National First Division
[ ] Livescore | [ ] Events | [ ] Lineups | [ ] statistics | [X] Players | [X] Standings
Premier Soccer League
[X] Livescore | [X] Events | [X] Lineups | [ ] statistics | [X] Players | [X] Standings
SOUTH-KOREA
K-League Challenge
[X] Livescore | [X] Events | [X] Lineups | [ ] statistics | [X] Players | [X] Standings
K-League Classic
[X] Livescore | [X] Events | [X] Lineups | [ ] statistics | [X] Players | [X] Standings
SPAIN
Primera Division
[X] Livescore | [X] Events | [X] Lineups | [X] statistics | [X] Players | [X] Standings
Primera Division Women
[X] Livescore | [X] Events | [X] Lineups | [ ] statistics | [X] Players | [X] Standings
Segunda Division
[X] Livescore | [X] Events | [X] Lineups | [X] statistics | [X] Players | [X] Standings
SWEDEN
Allsvenskan
[X] Livescore | [X] Events | [X] Lineups | [X] statistics | [X] Players | [X] Standings
Superettan
[X] Livescore | [X] Events | [X] Lineups | [ ] statistics | [X] Players | [X] Standings
SWITZERLAND
Challenge League
[X] Livescore | [X] Events | [X] Lineups | [ ] statistics | [X] Players | [X] Standings
Super League
[X] Livescore | [X] Events | [X] Lineups | [X] statistics | [X] Players | [X] Standings
THAILAND
Thai League 2
[ ] Livescore | [ ] Events | [ ] Lineups | [ ] statistics | [X] Players | [X] Standings
Thai Premier League
[X] Livescore | [X] Events | [X] Lineups | [ ] statistics | [X] Players | [X] Standings
TUNISIA
Ligue Professionnelle 1
[X] Livescore | [X] Events | [X] Lineups | [ ] statistics | [X] Players | [X] Standings
TURKEY
Super Lig
[X] Livescore | [X] Events | [X] Lineups | [X] statistics | [X] Players | [X] Standings
TFF 1. Lig
[X] Livescore | [X] Events | [X] Lineups | [X] statistics | [X] Players | [X] Standings
TFF 2. Lig
[X] Livescore | [X] Events | [X] Lineups | [ ] statistics | [X] Players | [X] Standings
UKRAINE
Persha Liga
[X] Livescore | [X] Events | [X] Lineups | [ ] statistics | [X] Players | [X] Standings
Premier League
[X] Livescore | [X] Events | [X] Lineups | [X] statistics | [X] Players | [X] Standings
UNITED-ARAB-EMIRATES
Arabian Gulf League
[X] Livescore | [X] Events | [X] Lineups | [X] statistics | [X] Players | [X] Standings
League Cup
[X] Livescore | [X] Events | [X] Lineups | [ ] statistics | [X] Players | [ ] Standings
URUGUAY
Primera Division - Apertura
[X] Livescore | [X] Events | [X] Lineups | [ ] statistics | [X] Players | [X] Standings
Primera Division - Clausura
[X] Livescore | [X] Events | [X] Lineups | [ ] statistics | [X] Players | [X] Standings
Segunda Division
[X] Livescore | [X] Events | [X] Lineups | [ ] statistics | [X] Players | [X] Standings
USA
Major League Soccer
[X] Livescore | [X] Events | [X] Lineups | [X] statistics | [X] Players | [X] Standings
NWSL Women
[X] Livescore | [X] Events | [X] Lineups | [ ] statistics | [ ] Players | [ ] Standings
USL Championship
[X] Livescore | [X] Events | [X] Lineups | [ ] statistics | [X] Players | [X] Standings
USL League Two
[ ] Livescore | [ ] Events | [ ] Lineups | [ ] statistics | [X] Players | [X] Standings
UZBEKISTAN
Super League
[X] Livescore | [X] Events | [X] Lineups | [ ] statistics | [X] Players | [X] Standings
VENEZUELA
Primera Division
[X] Livescore | [X] Events | [X] Lineups | [ ] statistics | [X] Players | [X] Standings
Segunda Division
[ ] Livescore | [ ] Events | [ ] Lineups | [ ] statistics | [X] Players | [X] Standings
VIETNAM
V.League 1
[X] Livescore | [X] Events | [X] Lineups | [ ] statistics | [X] Players | [X] Standings
WALES
Division 1
[ ] Livescore | [ ] Events | [ ] Lineups | [ ] statistics | [X] Players | [X] Standings
Premier
[X] Livescore | [X] Events | [X] Lineups | [ ] statistics | [X] Players | [X] Standings
WORLD
Africa Cup of Nations
[X] Livescore | [X] Events | [X] Lineups | [X] statistics | [X] Players | [X] Standings
Asian Cup
[X] Livescore | [X] Events | [X] Lineups | [X] statistics | [X] Players | [X] Standings
Champions League
[X] Livescore | [X] Events | [X] Lineups | [X] statistics | [X] Players | [X] Standings
Copa America
[X] Livescore | [X] Events | [X] Lineups | [X] statistics | [X] Players | [X] Standings
Euro Championship
[X] Livescore | [X] Events | [X] Lineups | [X] statistics | [X] Players | [X] Standings
Europa League
[X] Livescore | [X] Events | [X] Lineups | [X] statistics | [X] Players | [X] Standings
UEFA Nations League
[X] Livescore | [X] Events | [X] Lineups | [X] statistics | [X] Players | [X] Standings
World Cup
[X] Livescore | [X] Events | [X] Lineups | [X] statistics | [X] Players | [X] Standings
World Cup Women
[X] Livescore | [X] Events | [X] Lineups | [ ] statistics | [X] Players | [X] Standings