We're excited to announce RapidAPI's Series A Round. This is a big milestone in growing our developer community, letting more developers find, connect and manage APIs. 18 months ago, we partnered with the incredible team at Andreessen Horowitz. Together, we set out to create a better way for developers to consume & distribute APIs. With this recent funding, we're deepening that relationship and accelerating our growth efforts.
APIs pose a profound change in the way software is developed. Without them, developers were siloed and forced to perform repetitive work, duplicative of prior efforts. For instance, without APIs, every app that needs to send emails to its users would need to develop and maintain their own email delivery system.
APIs are like Lego pieces: existing pieces of functionality we can use to build software. With them, developers can focus on creating unique software and bringing it to market.
Watch Andreessen Horowitz General Partner Martin Casado explain what APIs are, how they work and why the API represents a key evolution in and beyond the computing industry.
API means business  
The past year has seen tremendous growth in the API economy, including IPOs like:
     

Twillio (a leading SMS API, traded at over $2B).

     

SendGrid (a large emailing API, traded at over $800M).

     

Mulesoft (an API management platform, traded at over $4B).
These are just some of the examples that prove that the value created by API translates into successful businesses.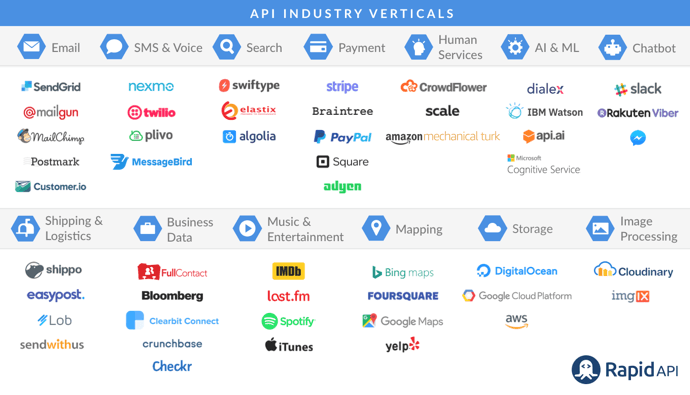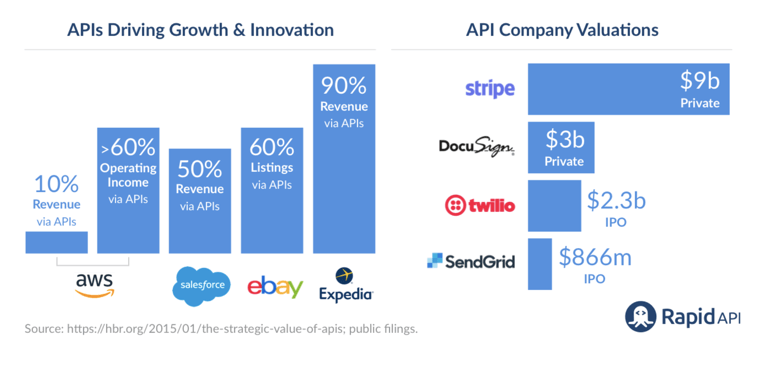 Developers are using more APIs in building software – and a growing variety of APIs is becoming available. As of January 2018, there are over 25,000 publicly available APIs (and many more private / partner only APIs). Finding the right APIs within this vast collection is increasingly challenging. What more, it is not uncommon for medium-large companies to be using hundreds of different APIs. Managing what are essentially hundreds of third party service providers is a non-trivial task.
Serving half a million developers and counting!  
We started RapidAPI to solve these two problems. First, by improving the experience of finding, evaluating and connecting to APIs. Developers can now access a catalog of over 8,000 APIs – and test them right from the browser. On top of that, RapidAPI gives developers insights and analytics into their API consumption. This helps understand how different services are being used, and optimize their consumption.
Since launching RapidAPI, we have been working hard to bring our platform to a global audience of developers. We have grown our tight community to over 500,000 developers, spawning all continents. Together, we have brought over 8,000 APIs to our platform.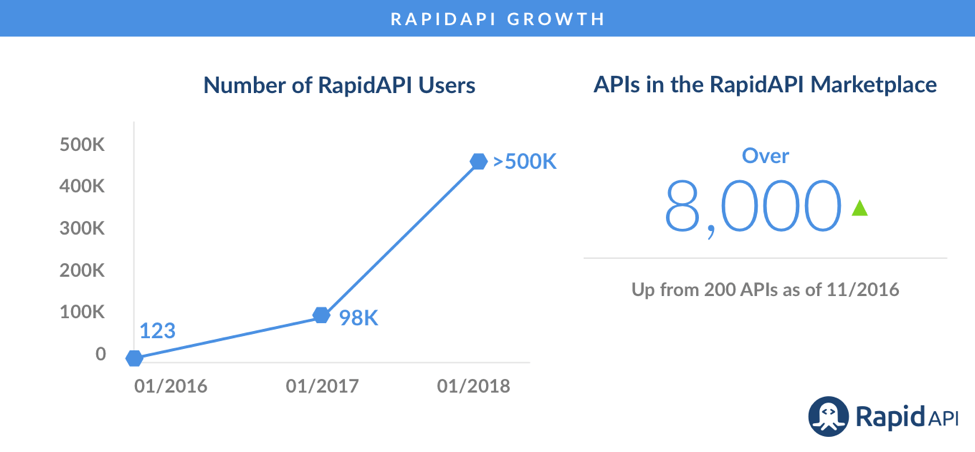 What's next?
Firstly, we'll keep growing the collection of APIs available on Rapid. We have established an API partnership team. They'll be responsible for helping more APIs come to Rapid and be successful on it.
Moreover, we want to push the API industry forward, by helping companies expose public APIs. In the new API economy, companies build infrastructure in specific areas, and expose it via APIs for developers to consume. This could be Uber & Lyft: creating a driver infrastructure and exposing it via an APIs for on-demand deliveries. Or Twilio, building infrastructure for SMS sending and exposing it via an API).
We've been recently joined by Kumar Kandaswamy (VP of Ecosystem) who has previously built and managed API programs at organizations like Best Buy, Chegg and eBay. At RapidAPI, he'll work closely with enterprise partners to build and expose APIs in new categories.
With all those APIs, our biggest priority is to make them as accessible as possible to developers. As such, we'll keep developing and improving the RapidAPI platform to make it as simple to use as possible. Handling API calls in the Billions, we are constantly improving the speed of API requests. With the new funds, we're growing our engineering team to accelerate that process.
The tremendous growth of the RapidAPI platform would not have been possible without our great community of developers, and our incredible teams in San Francisco, Tel Aviv and Kiev. Our incredible team members have been paramount in growing our platform.