When looking at the best travel websites, it is important to weigh the pros and cons. The line from good to great is thin, so it's difficult to prioritize the best of the bunch. The ten websites and search engines below are standouts in the industry and continue to provide consumers with a reason to explore a new destination.
Related: Best Flight & Travel APIs
Top Travel Sites to Find Deals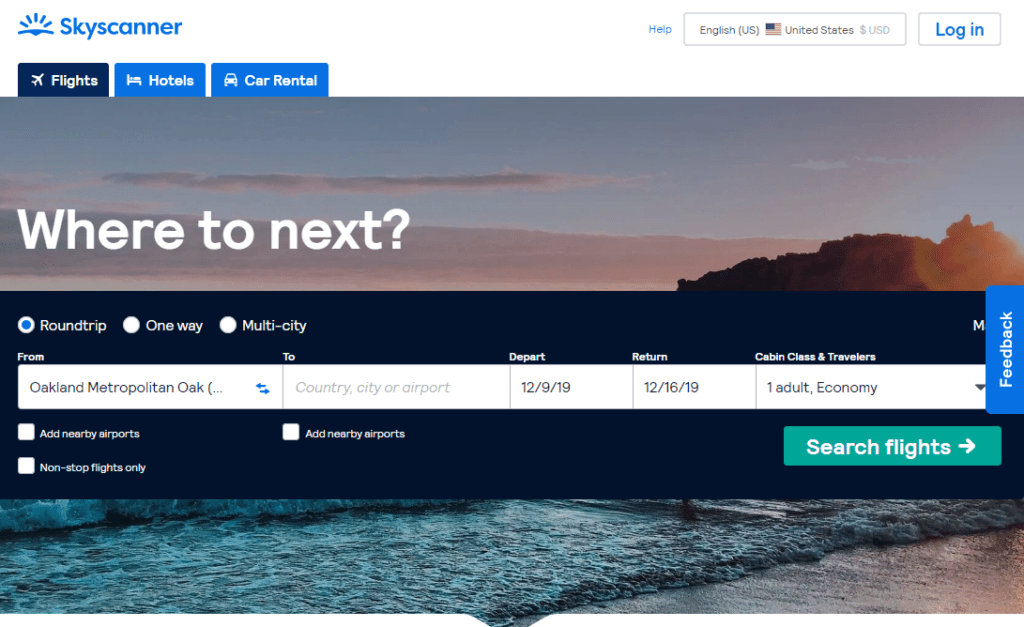 Skyscanner is a reliable website that provides solid deals for the patient buyer. It won't replace any of the big boys on the list, but it still remains a nice option for all in one package. The unique comparison engine does its job without displaying unnecessary information.
Pros
One of the hidden gems to find blockbuster travel deals
Flight Search engine handles updates to other websites quickly
Works great as a vacation research tool
Sources data from multiple online travel agencies & travel agents
Cons
Sparse results will limit its appeal for larger groups
Connect to the Skyscanner API
The limited options of Funjet Vacations is a turnoff for some, and a lifesaver for others. It sports a simple homepage that offers flight/hotel and hotel/car options. Funjet is the travel website people go to when they already have a heavy itinerary in place.
Pros
A website that gets right down to business without wasting your time
Options are limited, but clearly laid out for the buyer to see
One of the easier websites to navigate on mobile
Cons
Prices aren't always consistent
Browse Travel APIs
This is a surprising inclusion on the list considering how limited the travel scope is. If you can look past that one flaw, CheapCaribbean.com delivers on its promise for deals on that side of the world. No other website on this list can match their all-inclusive packages to the Caribbean.
Pros
Best packages available for the Caribbean
A popular choice for honeymoon packages
Beautiful location with a lot to offer
Cons
Not much use if you don't want to go to the Caribbean
Browse Travel APIs
Tripadvisor is known for its collection of reviews and articles. Believe it or not, you can actually create an entire vacation package on the website! Despite the sometimes-overlooked nature of this feature, Tripadvisor is still considered one of the best in the business.
Pros
Best place to get a general idea of things to do in a particular area
Moderation team does a good job of removing troll reviews
Booking options are solid (for casual or luxury travel)
Also provides car rental options
Cons
Negative trip reviews are sometimes too personal, and not always reliable
Connect to the TripAdvisor API
It's almost frightening how good Orbitz is since it is the sister site of Expedia. Despite the connection, Orbitz exists for a specific reason on this list- it caters to individual travelers better than Expedia. When you're looking for one or two tickets, Orbitz is one of the better websites to browse.
Pros
Excels at finding smaller deals
Makes a good alternative to bigger websites that focus on groups
Some of the deals are one of a kind
Cons
Browse Travel APIs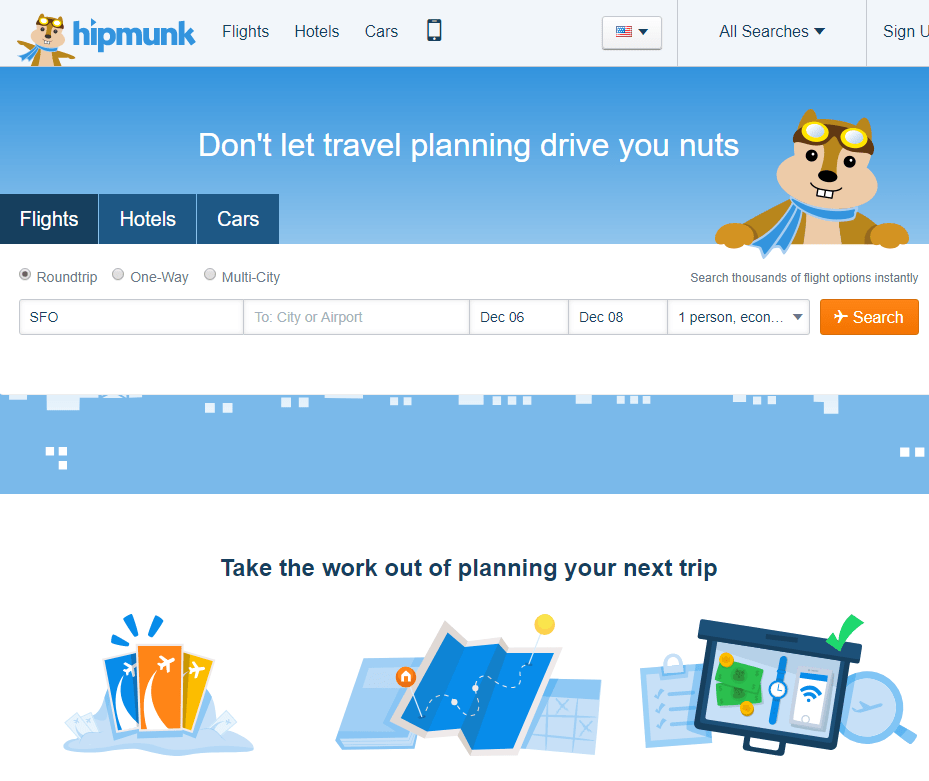 Hipmunk joins a long list of travel websites that use a search engine spider to collect booking information from the bigger sites. The difference here is that Hipmunk organizes the information in a way that makes sense. Sometimes, it does a better job than the original website.
Update: Hipmunk is shutting down its operations per TechCrunch
Pros
An almost perfect search engine that puts others to shame
Filters are easy to manipulate and tabs are simple to search through
Hipmunk organizes information intelligently so that you don't get confused
Cons
Some tweaking to the search engine is needed to make it perfect
Connect to the Hipmunk API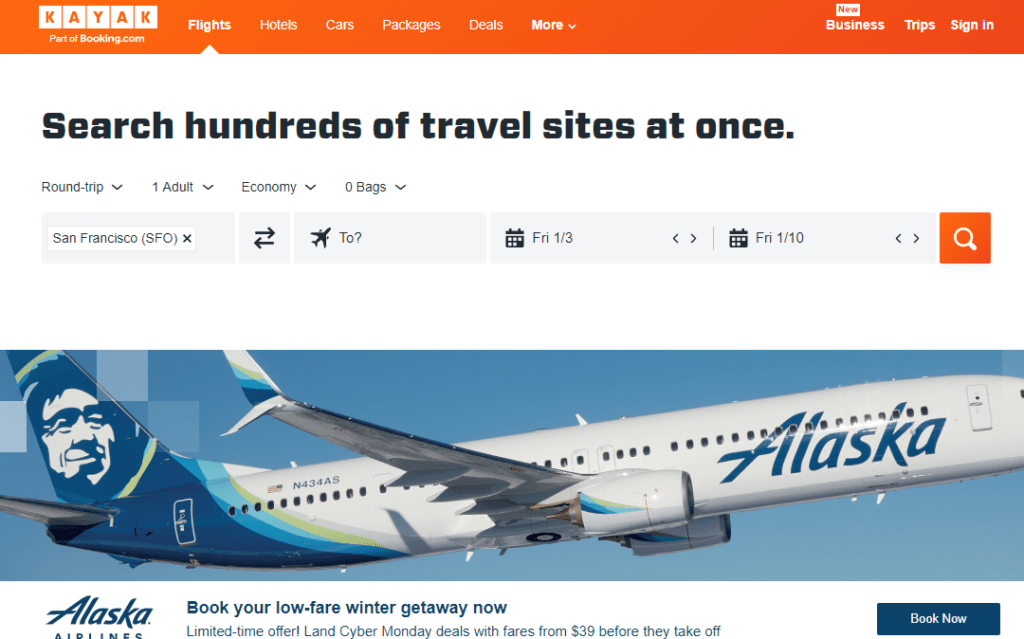 One of the forgotten greats in the travel website industry is Kayak. They peaked early by providing deals that not even the best travel websites could match. Once the competition caught up, Kayak went from being legendary to 'great'.
Pros
Still one of the better websites for travel information
Prices are competitive during heavy travel times
The search engine is solid, and most deals will contain accurate information
Cons
The website is a nightmare on older Android/iOS devices. The Kayak Mobile app is strongly recommended
Browse Travel APIs

Seeing Booking.com at the #3 spot may irk some travelers. The website is known for having incredible deals, but with the worst customer service possible. Buyers that never have to deal with the company's customer service are highly likely to use the online booking system for future purchases.
Pros
A truly underrated all-world booking website
Options extend beyond booking – Buyers can list their properties for rent
A friendly close-knit community that provides more balanced reviews than Tripadvisor
Cons
Customer service needs an overhaul
Browse Travel APIs
Browse a few of the
top booking APIs here
.
William Shatner put Priceline on the map, adding a memorable face to one of the best websites in travel. Priceline has always been a top competitor, gathering deals from all over the web. Their best feature is accuracy, even when the website grabs last-minute deals.
Pros
Huge focus on accurate booking information
Most recognizable brand on the list
The website stays updated and user-friendly for all devices
Cons
Some of the deals are a little behind better ones on other websites
Browse Travel APIs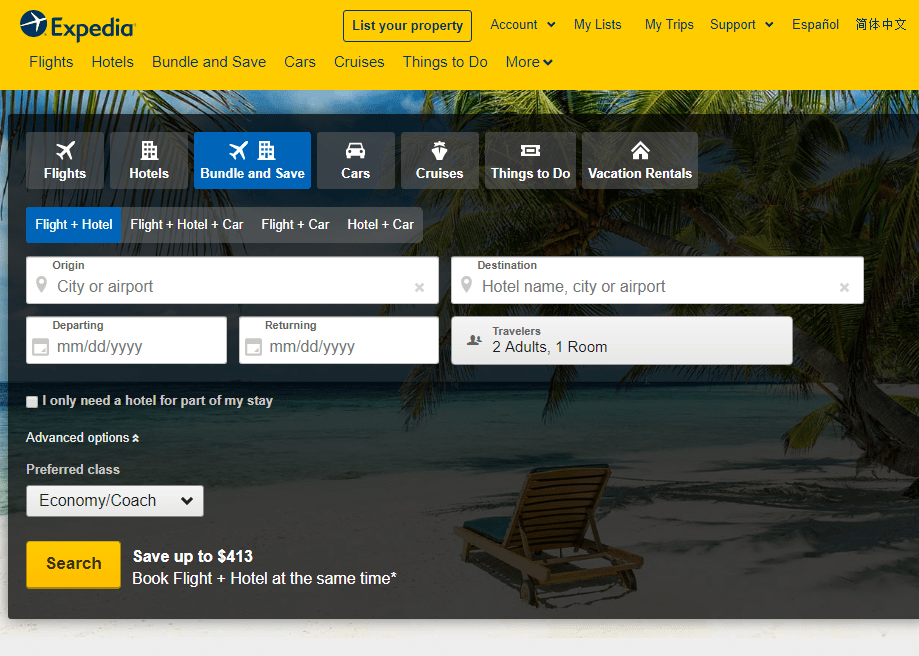 Expedia is one of the most well-known travel websites for a reason. Their bundle options are extensive, with a nice set of customization features to fit every vacation type. It's safe to say that Expedia covers the most ground when planning a large trip.
Pros
Robust set of options for any vacation
Deals are always up to date
The easiest website to use
Cons
Sometimes competitors would have slightly better deals
Browse Travel APIs
Wrapping Up
Booking a hotel, flight, or car is a lot easier when using a travel website. It is a time-saver, and with the right connections will also save you money. Enjoy your vacation package by ensuring you did everything possible to make it perfect.
What did you think about our list? Which travel sites are missing from our list? Let us know in the comments below.
Summary: Top Travel Websites for 2020
Website
Pros
Cons
API
Hipmunk



An almost perfect search engine that puts others to shame


Filters are easy to manipulate and tabs are simple to search through


Hipmunk organizes information intelligently so that you don't get confused





Some tweaking to the search engine is needed to make it perfect



Yes
Connect to API
Orbitz



Excels at finding smaller deals


Makes a good alternative to bigger websites that focus on groups


Some of the deals are one of a kind



No
Browse Travel APIs
TripAdvisor



Best place to get a general idea of things to do in a particular area


Moderation team does a good job of removing troll reviews


Booking options are solid (for casual or luxury travel)


Also provides car rental options





Negative trip reviews are sometimes too personal, and not always reliable



Yes
Connect to API
Cheap Caribbean



Best packages available for the Caribbean


A popular choice for honeymoon packages


Beautiful location with a lot to offer





Not much use if you don't want to go to the Caribbean



No
Browse Travel APIs
Funject Vacations



A website that gets right down to business without wasting your time


Options are limited, but clearly laid out for the buyer to see


One of the easier websites to navigate on mobile





Prices aren't always consistent



No
Browse Travel APIs
Skyscanner



One of the hidden gems to find blockbuster travel deals


Flight Search engine handles updates to other websites quickly


Works great as a vacation research tool



Sources data from multiple online travel agencies & travel agents





Sparse results will limit its appeal for larger groups



Yes
Connect to API
Kayak



Still one of the better websites for travel information


Prices are competitive during heavy travel times


The search engine is solid, and most deals will contain accurate information





The website is a nightmare on older Android/iOS devices. The Kayak Mobile app is strongly recommended



No
Browse Travel APIs
Booking.com



A truly underrated all-world booking website


Options extend beyond booking – Buyers can list their properties for rent


A friendly close-knit community that provides more balanced reviews than Tripadvisor





Customer service needs an overhaul



No
Browse Travel APIs
Priceline



Huge focus on accurate booking information
Most recognizable brand on the list
The website stays updated and user-friendly for all devices





Some of the deals are a little behind better ones on other websites



No
Browse Travel APIs
Expedia



Robust set of options for any vacation


Deals are always up to date


The easiest website to use





Sometimes competitors would have slightly better deals



No
Browse Travel APIs
Relevant and Related Resources
Sources