Today we are welcoming CrunchBase API to the RapidAPI marketplace! CrunchBase is a global leading destination of data on the world's most innovative companies. It has built a unique and scalable approach to data collection leveraging a strong community of contributors, the largest venture partner network, and in-house data teams armed with powerful machine learning.
We couldn't be more excited about the variety of use cases and applications this API can be used for. Do you need to incorporate the latest startup trends, investment insights, or company data into your application? Look no further! The CrunchBase API is here.
With CrunchBase data, you'll be able to uncover startup trends, get company funding data, find new prospects and much more. The CrunchBase database is updated in real time, offering rich market data which you can leverage to build amazing applications!
"We're excited to be working with RapidAPI in order to help make CrunchBase data accessible to individuals everywhere. Developers can be endlessly creative with the extensive CrunchBase dataset. You can use our live company data in a variety of ways, whether it's to build a sales tool or to research the newest industry trends." Nealesh Patel, Head of Sales and Business Development at CrunchBase.
What Data is Available with the CrunchBase API?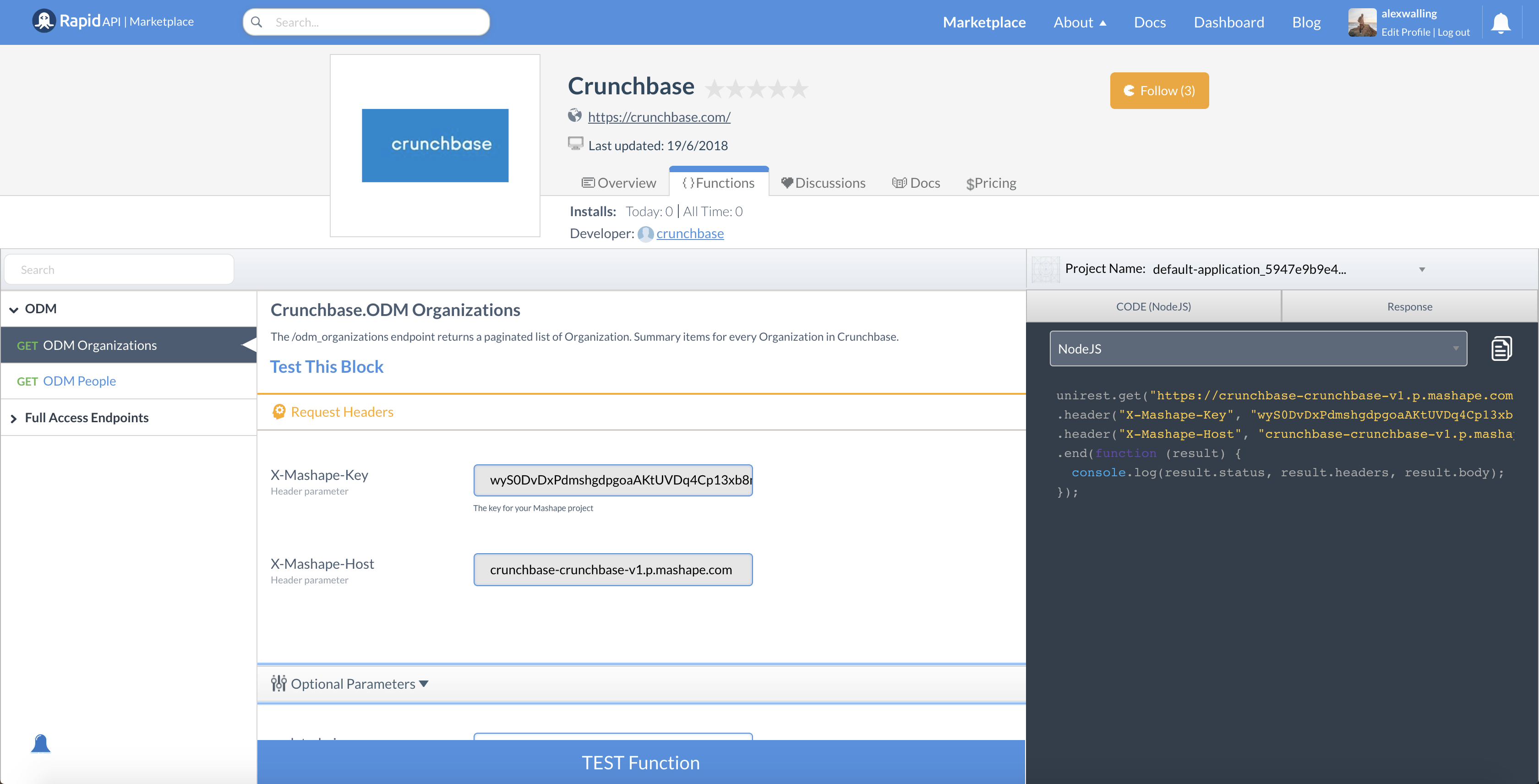 Free Access to Open Data Map (ODM) Endpoints
Developers subscribed to the BASIC free pricing plan, will only have access to the ODM Organizations and ODM People endpoints. The Open Data Map will allow you to link your existing dataset to CrunchBase data. Interested in discovering what organizations make up a certain industry landscape? The ODM endpoints allow you to retrieve basic organization and people information through an easy to use REST API. The attributes available for these endpoints can be found here:
Full Access to CrunchBase API Data Endpoints
For access to the other API endpoints available, you will need to subscribe to a paid pricing plan. We have a pricing plan that allows for full access to the API, but if you need a more customized solution or you only need access to certain endpoints, contact support@rapidapi.com.
Looking for company growth signals like recent funding or a jump in employee count? With access to CrunchBase's API Endpoints, you'll have full access to the entirety of the data CrunchBase can offer. The categories of data include:
Give the API a try today!