The weather can change in a split second. Your safety depends on timely nowcasts and forecasts that provide understandable information you can use. While we once relied on radio and television for updated information, today, the Internet takes their place. Mobile apps and websites provide real-time information including wind speed and precipitation, plus specialized forecasts.
While the states of Oklahoma and Texas have Mesonets that provide enhanced forecast and nowcast information, the rest of the nation must rely on commercial weather information sites and the National Weather Service.
Each site specializes in its forecasts (or historical data) for either the general public or businesses.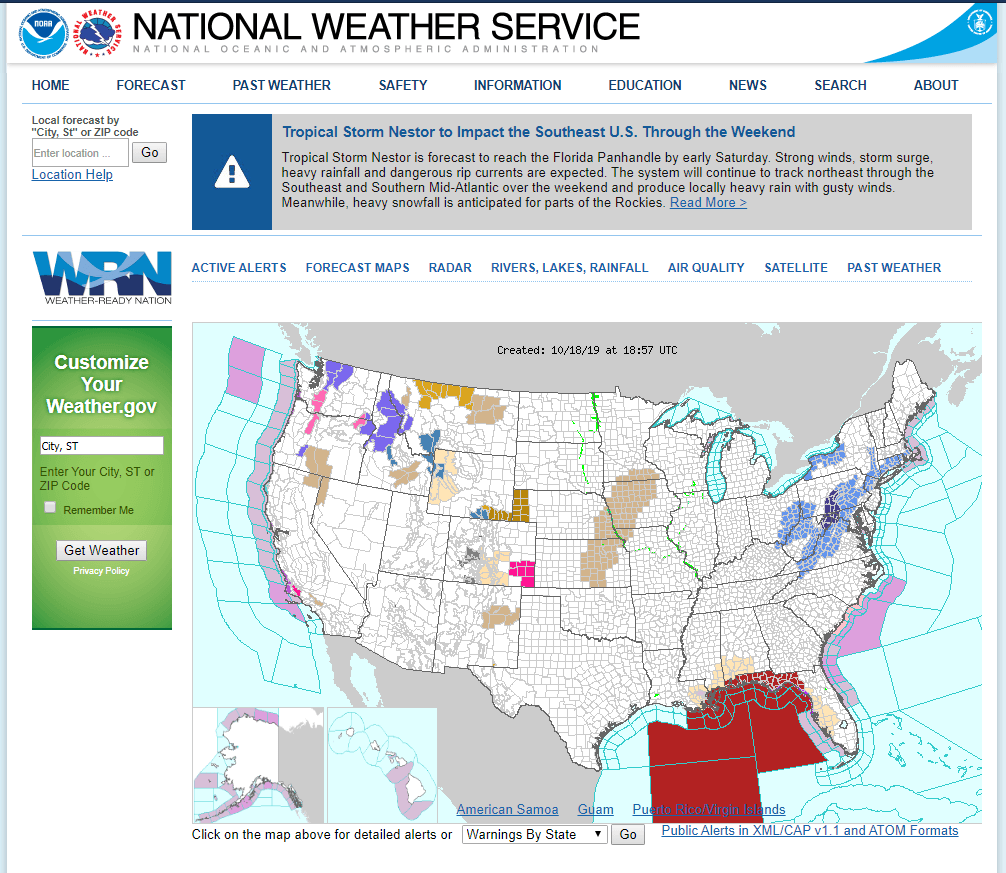 The Most Accurate site there is.
The US government product from the National Oceanic and Atmospheric Administration (NOAA) churns out numerous forecasts and nowcasts daily.
It issues the hazardous weather watches and warnings for the country and its territories.
It provides the most accurate data culled from its official weather stations, orbiting satellites and other resources, such as data obtained from the Mesonets.
The website provides a massive amount of data, discussions, and maps. It goes beyond weather and includes wildfires as well as other fire information such as drought & heat indices.
The downside of NWS forecasts is its use of zip codes to discuss forecast information.
The US Postal Service assigned zip codes to have no geographical meaning as opposed to latitude and longitude data.
It also provides a storehouse of historical data.
Connect to API


Weather Underground began as an offshoot of the University of Michigan weather database. As the commercial service grew, it drew the attention of competitors.
The Weather Channel purchased it in 2012 obtaining the real-time data culled from its more than 100,000 member personal weather stations. Its members blog onsite about local and regional weather as well as climate topics.
It still provides the customizable Wundermap which lets you toggle layers to access local data. Many of its features appeal to meteorologists and weather nerds, such as its purchasable raw data.
Browse Top Weather APIs


The Most Reliable site there is.
The website for the television station goes far beyond any mere station identification. This video-intensive web experience also provides hourly, 5-day, 10-day and monthly forecasts. It capitalizes on its TV personalities to draw more website visits.
While among the weather professional set, it is known for simplifying the weather for the masses and sometimes overhyping weather events, their warnings have been mentioned by the public as saving lives by being the forecast they heeded when the weather required evacuation.
Browse Top Weather APIs
Long a favorite of the business crowd, AccuWeather, offers premium and professional options that create an ad-free experience, plus includes specialized forecasts.
The site also offers a number of APIs such as:
GET Active government-issued storms by basin ID and government ID,
GET Positions for an individual government-issued storm,
GET Active government-issued storms,
GET Current position for an individual government-issued storm,
and the GET Search government-issued storms by year, basin ID, and government ID.
Connect to API
Launched in 2013, Dark Sky/Forecast.io provides the most minimal forecast. You get an animated weather report with current conditions including temperature, location, current conditions, the following hour's forecast, plus a 24 hour and 7-day forecast.
Further down the page, you will find long-term data, forecast lines, radar data, and high definition weather maps.
Unlike the NWS site, Dark Sky doesn't provide vast pages of data. You get the forecasts, conditions and a smattering of data and that is it.
Connect to API


One of the most venerable of the weather sites, WeatherBug amassed a cult following for its app. The cute and adorable bug resembles a ladybug and includes the weather basics of temperature and current conditions.
Originally crafted for Windows systems, it runs in the system tray and you can leave the bug up on your screen. If you want bare bones information, skip the website and install the WeatherBug app. Otherwise, visit the website for more detailed information.
Browse Top Weather APIs


Weatherspark goes the extra mile to provide details in a single view. On one page, it presents graphs, charts, wind speed, precipitation, average, as well as mean temperatures and temperature graphs. The temp graphs come in your choice of a day, multiple days, weeks or years.
Browse Top Weather APIs
---
You can find plenty of choices for weather information online. The best choice for you depends on your needs. Businesses require different decision-making data than individuals or a school. Consider your needs, including the delivery format of the information, before choosing. While you can try each site, organizations will find it helpful to pick one and stick with it.
Best Weather APIs
If you're a developer, you may be looking for the most accurate and reliable weather APIs. Here are a few of them:
Summary: Best Weather APIs And Websites
| API | Forecast Data | Historical Data | Current/Real-Time Weather | Pricing | Number of Free Requests |
| --- | --- | --- | --- | --- | --- |
| OpenWeatherMap | Yes | No | Yes | Free | Unlimited |
| Weatherbit | Yes | No | Yes | Freemium | 150 per day |
| AccuWeather | Yes | No | Yes | Free Trial | 50 per day |
| Dark Sky | Yes | Yes | No | Freemium | 100 per month |
| Weather2020 | Yes | No | No | Freemium | 1000/day |