Football/soccer is one sport that enjoys support from people of all social statuses and ages from around the globe. Due to its popularity, millions go to stadiums or sit in front of their TVs to witness a showdown of their favorite teams.
For the love and the passion of this beautiful sport, most people don't want to miss even a single minute of the action. So, when they are not attending or watching a match on TV, they follow the action online via websites that provide real-time scores. If you are looking for the top sites to enjoy live scores from all around the world, here are the top picks.
View the Best Soccer/Football APIs List
Best Websites for Real-Time Soccer Scores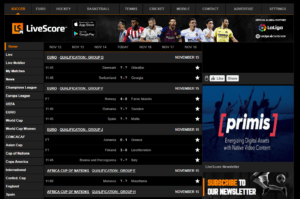 Livescore.com is your number one destination for real-time football scores. With a highly responsive and black themed website, this platform provides thousands of football events from all over the world. The site makes it easier for you to locate the game you are looking for by providing a live category that displays games based on the country.
Additionally, this website boasts an intuitive app that works on iOS and Android-powered devices. The app provides fast and more comprehensive live scores. Fans have the option of selecting their preferred matches and get notifications whenever one team scores. The site also features a selection of other favorite games that are available all around the clock.
Connect to API

Offering live football scores and results from more than 100 football leagues, cups, and tournaments, FlashScore is your one-stop destination for real-time soccer action. The site provides you with league tables, video highlights, goal scorers, yellow cards and red cards, and other football information. This website allows you to follow your live score selection by clicking the star icon, which ensures that you get notified by sound when there is a score. Whether it's a red card issued, a goal scored or a game concluded, the site keeps on the loop just as the live audience.
For those using hand-held devices, FlashScore boasts an intuitive mobile app that is available for IOS, KaiOS, and Android-powered devices. With Flash Score, you can follow your favorite team or players, and sync them across the web, mobile, and tablet version.
Browse Related APIs

Powered by one of the largest sporting brands in the world, ESPN brings you real-time soccer scores as they go in. Follow every minute of action on the site's cutting edge dashboard, which includes tournaments, cups, and leagues from all over the globe. The site also provides a comprehensive collection of other sporting events, sports highlights, commentaries, fixtures, and other breaking news in the sporting world.
The one drawback is that because of its massive collection of sporting information on this site, ESPN can be sluggish and slow at times. Nevertheless, it boasts a dedicated mobile app that allows football fans to enjoy every score from their hand-held devices.
Browse Related APIs

If you are looking for an ultimate soccer resource that covers football tournaments, leagues, and cups for most countries around the world, Soccer24 has got you covered. This platform provides you with real-time soccer sores and results, as well as in-game information such as red cards and yellow cards, and goal scorers. Visit this site for fast, accurate, and real-time soccer live scores from over 1000 soccer league and cup games, as well as fixtures, statistics, standings, and much more.
For individuals who want to get the live scores anywhere, this site boasts a dedicated mobile app that displays scores and in-game statistics for all on-going soccer competitions. The mobile app is optimized to operate on Android and iOS powered devices.
Browse Related APIs

SoccerScore.com is a top-tier platform that provides sports coverage for matches and real-time updates for football from all over the world. This premium live-sore service allows football fans to stay close to the action by providing fast and accurate results all around the clock, every single day of the year. This site takes pride in its dashboard arrangement, which makes it easy for fans to locate their team within the shortest time possible. All the matches on this website are covered in great detail, starting with line-ups, bookings, goals, and substitutions, among others.
While live coverage is the primary purpose of this site, they also feature several categories where fans can read soccer news, in-depth statistics, fixture lists, and much more. Conversely, the site delivers live soccer action from all over the globe to desktop, mobile, and tablets. So if you're not near your desktop, you can download the mobile app for use on the go.
Browse Related APIs
Summary: Top Soccer/Football Websites for Live Scores
Interested in creating your own sports website? Check out this tutorial.